Moving Picket for Peace.
Is your maul next?

November 29 2002
Maul of America

Additional images in this series:
go to - [ 1 ]x[ 2 ]
Ten minutes into the walk Bloomington Police join us. Mall security can't arrest anyone - they have to call the police. At this point only Rachel has been asked to leave the mall because her signs are merely pinned to her shirt. They might not have liked the hat either.

Bloomington police agree to let Rachel return to the exit where her car is parked. The group accompanies her even though security and police try numerous times to separate her from us.

The problem was Rachel could not remember where her car was parked, so we walked around the mall for another twenty minutes or so looking for the right exit. During this time, another in the group is asked to either remove a sign that says "Peace MP" from his clothes or he will have to leave. He declines to remove it and is escorted by Bloomington Police to the nearest exit and is told he can't return for 24 hours.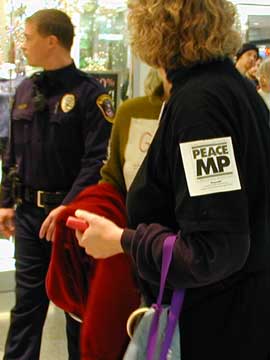 At this point mall security decides that we are "walking billboards" and that is against mall policy. They tell us the shop owners and the mall guests will feel threatened by the "PEACE MP" paper signs we have taped to our arms. They continue to escort us out of the mall.
UofM Students Against War (SAW) members spent the morning outside the mall. Some joined the MPs for the walk and then returned outside.

Additional images in this series - go to - [ 1 ]x[ 2 ]